100% Australian owned and managed.
Website design work never outsourced. All work performed in-house.
We do not take advantage of overseas cheap labour to increase our profit.
Turning Visitors into Customers
Website design is not all about looking great. Great web design also includes functionality that makes the website a success. These include:
Making sure that your visitors get the information they need to become customers.
Creating content that matches searcher intent can lead to high conversion rates.
Content that encourages multiple page views, with internal linking, increases site visit times – a Google Ranking calculation.
Using Call to Action ( contact us, buy now, give us a call…..) to increase visitor interaction and help you with Google ranking and lead data collection.
Our websites include these techniques and many more.
Speed Matters
A slow website is death to conversion. Customers that wait for longer than 4 secs usually abort the website and look elswwhere.
If you have a slow website then all the work you have done on marketing is probably a total waste.
Website speed is also a strong search engine ranking consideration. Slow sites are ranked lower.
Having The Right Tools
We provide the tools you need to edit and control your website. We also provide SEO and Speed performance tools to get you started.
Divi Theme Builder, Rank Math SEO amd Nitro Speed Booster come as standard inclusions in our WordPress websites.
You will have a perfect start to you new website.
Great freebies for your new website
For a limited time, all new website designs come with:
Free Divi Theme and Page Builder
Free 1st year Siteground Website Hosting
Free Cache and Security Plugin
Free Rank Math SEO Plugin
You will save $100s.
Talk to us today for your Special Offer Free Consultation and Quotation
Getting the right visitors to your website
SEO and SEM are all about getting the right visitors to visit your website. The right visitors are those that want and need the services and products you provide.
If a website attracts visitors that are searching for red shoes but the website only sells black shoes then those visitors are of little use to you and they will be very disappointed with the website. If they come from SEM, where you pay for the click to your website, then you are also wasting money! Targeting the right visitor and matching what they search in Google for is vital for converting visitors into customers.
What is SEO?
Essentially SEO ( Search Engine Optimisation) is optimising your content to feature in the Organic Search Rankings of Google, Bing… But in all honesty Google right? There are essentially 4 core methods to achieve this:
Technical SEO
On Page SEO
Content
Off Page SEO
As all these improve so will your organic ranking.
What is SEM?
SEM (Search Engine Marketing) is nowadays considered the strategy of getting the cutomers you need from paid online Ads – Google Ads and it's varieties.
Running successful ad campaigns is tricky as you can waste lots of money on ad clicks you don't want. It's particularly difficult because the page the ad drives visitors to must be relevant to the visitor's search. If it is not particularly relevant, the visitor is unlikely to interact and become a customer. This can also alter the Quality Score that Google applies to ads and this can effect ad ranking and cost of clicks.
Why we use WordPress (most of the time!)
Firstly, there is nothing wrong with "free" website builders like Wix and Squarespace. They do an excellent job for people who want to build a website themselves.
The only thing is that these do not really remain free for very long, as you will need to buy add-ons on a monthly subscription to get better functionality.
This can end up being an expensive monthly charge as the website grows. Also, as the platforms are plan-based, they tend to be limited in what can ultimately be done. You are restricted by a plan.
WordPress, on the other hand, offers many more ultimate options and is much more suited to more advanced websites that need a fully customised web design or require an expansive e-commerce solution.
We find that, in order to get the very best in design and SEO potential, a WordPress site suits practically every customer we have worked with.
Business Web site Design Dubai UAE
Uma Interiors
Uma Interiors are a interior design and space planning company based in Dubai. They have international clients as well as UAE residential and commercial projects.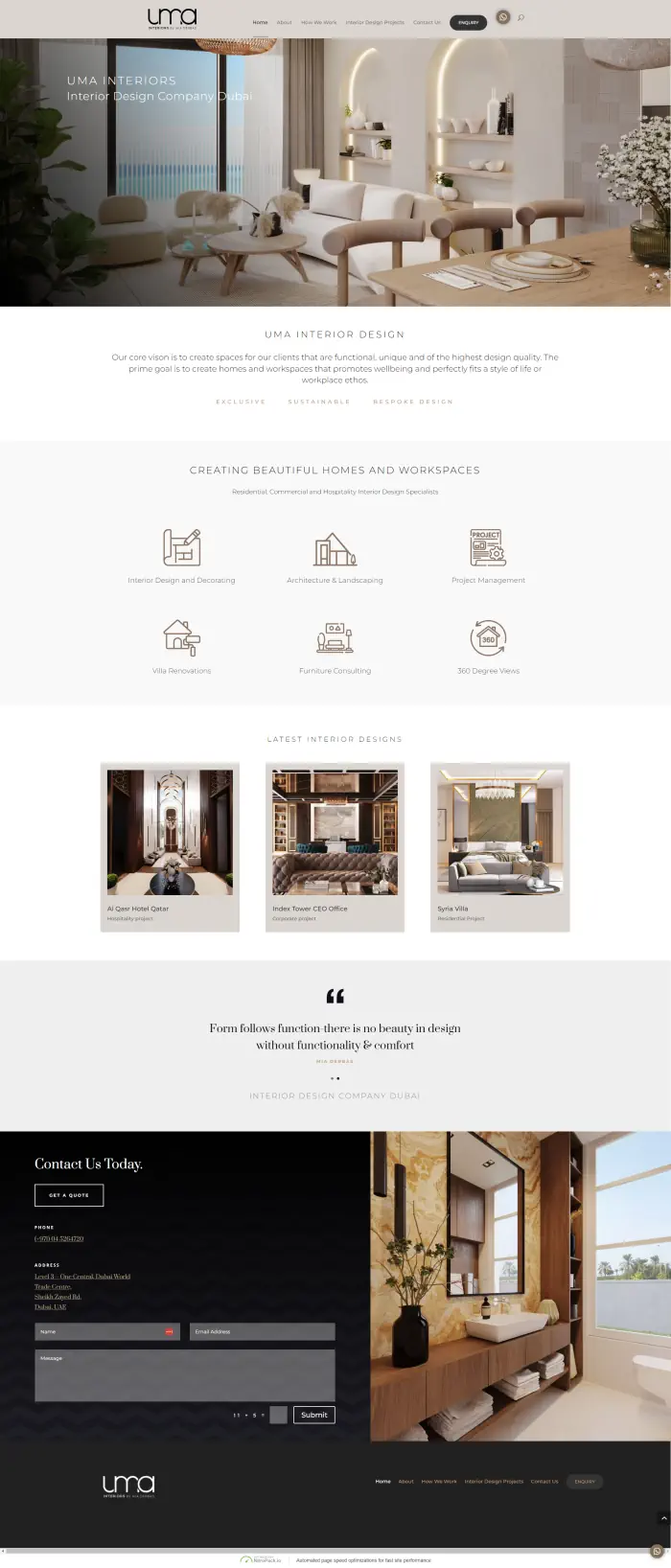 Ecommerce Warriewood Web site Design
MyTap
MyTap is a Northern Beaches tapware, bathware and accessory online store for all Kitchen Bathroom and Laundry needs.

Ecommerce Website Design
Cabana Style Avalon Online Store
Cabana Style is an online homeware and clothing store. The website is built with WordPress, the DIVI Builder and WooCommerce.

Corporate Website Design
IScreen Digital Signage
iScreen Digital is a Northern Beaches Digital Signage Company providing software and digital signage design.

DIY WebsitesThe simplistic answer? Of course you can. There are also many free website design tools you can use to help you achieve this. These are all useful tools and make it pretty easy to create good looking websites. However, just looking good is not everything....
Getting Started:Top 5 SEO TipsWhat Is SEO? Enhancing a website's or web page's visibility and ranking in search engine results pages (SERPs) is known as SEO, or search engine optimisation. This is achieved by utilising various techniques that follow the best practice...
Drop us a line for a free and no obligation touch base session. We'll discuss your project and give our expert advice for you to consider.